Satisfying Fan Cravings Is Easier With a Schlotzsky 's Sub
Sandwich Franchise®
What started with one sandwich served in a simple shop in Austin, Texas, has grown into a thriving sandwich franchise serving more guests than we can shake a turkey bacon club at. Through multiple dayparts, world-class support and a menu beloved by a bevy of loyal fans, Schlotzsky's® is the franchise opportunity you have to experience to believe.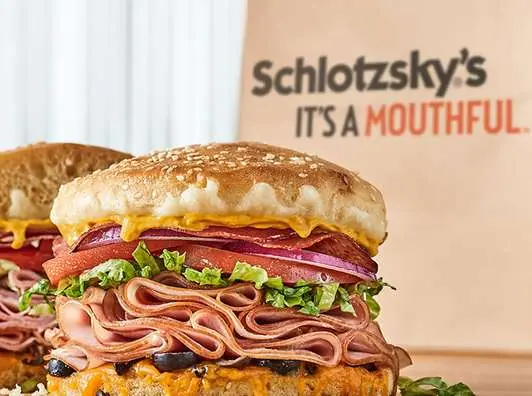 $1,102,012 Average Net Sales in Fiscal Year 20221
Our Benefits Go Well Together
Culinary
Innovation

From state-of-the-art test kitchens to a broad base of food science expertise, we're perfectly positioned to lead the future of sandwich franchising.

Well-Known
Name

They may not be able to spell it, but your fans will never be able to forget our well-crafted fast-casual franchise.

Backing by
Industry Leaders

Focus Brands® brings big-name support to your deli franchise as world-renowned leaders in foodservice franchising.

In-House
Marketing

National, local and seasonal marketing campaigns are designed by our in-house experts to drive traffic to your sub franchise locations.

Supporting
Every Side

You'll enjoy exceptional operational support from a Regional Market Leader, as well as supply chain and sourcing assistance.

Robust Digital
Platform

Through intelligence gathering and benchmarking, you'll be more connected to your customers and better able to meet their needs.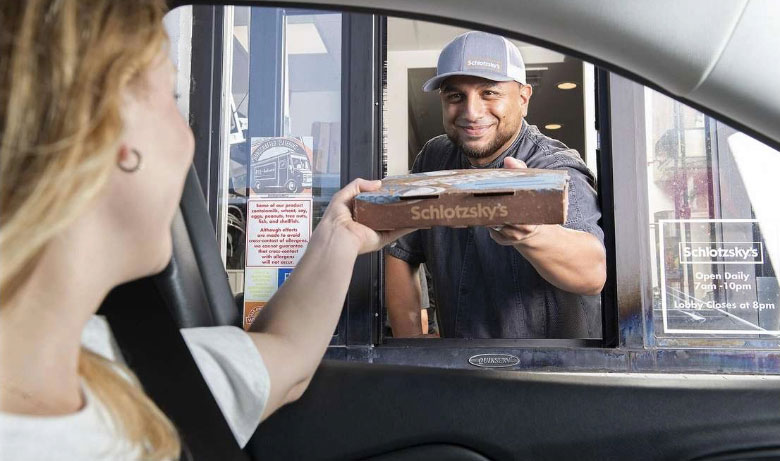 The Deli Franchise That dishes up Flexibility
We got started slinging a single sandwich, affectionately dubbed The Original®. Today, we've expanded our menu just a bit, offering plenty of amazing options to satisfy every fan. Through it all, we've stayed true to our style as a deli franchise unlike any other.
Your Schlotzsky's® franchise can fulfill fans' desires for delicious food nearly anywhere thanks to our flexible footprints, including freestanding drive-thrus, end cap drive-thrus, in-line and non-traditional restaurants. We even have cobranding opportunities with our sister brands like Cinnabon®. It's just one more way Schlotzsky's® stands out from the crowd.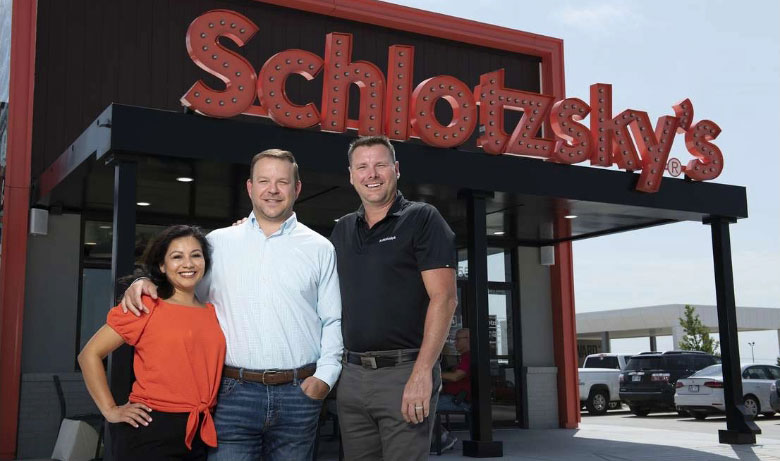 Training and Support to take you Further
Extensive training, including classroom instruction, will help turn you into a Scholtzsky's franchise expert. Ongoing support from our team and everyone at Focus Brands will give you the leg up you need to excel.
You'll even get on-the-job experience in one of our successful, high-volume restaurants, so you'll know exactly what you need to do to make you Schlotzsky's® one of the greats.

Our food is unique. Our customers are loyal. We offer something that they can't get anywhere else. We are fast, convenient, and consistent. Our sandwich bread and pizza crust is baked fresh-from-scratch each morning. And with life's current demands, where else can you get a whole pizza at the drive-thru, in less than 4 minutes?
Viral Patel, Franchise Owner with 23 Locations
Do You Have What It Takes
To Own A Schlotzsky's® Franchise?
We're looking for the right type of owner, someone who fits in by standing out and is always eager to go the extra mile to make their business even better.
Business Acumen You know your way around a business as well as a sandwich.
People-Oriented You enjoy getting to know your guests and providing a true experience.
Community Connections You're ready to market your business and network throughout your territory.
$300,000 Minimum Liquid Capital
$568,600 – $1,265,340 Estimated Initial Investment2
$1,000,000 Minimum Net worth
$35,500

Initial Franchise Fee